At a glance
Course Dates: 07.08.2024 – 18.08.2024
Course Location: Kulturzentrum Schloss Kapfenburg
Course Fee: 599€ (includes food, accommodation, tuition, and any other cost related to the musical or cultural programme) // you can apply for financial support from the Peter Gibbons Bursary fund here
Who can apply: enthusiastic musicians aged between 16 and 26 from all countries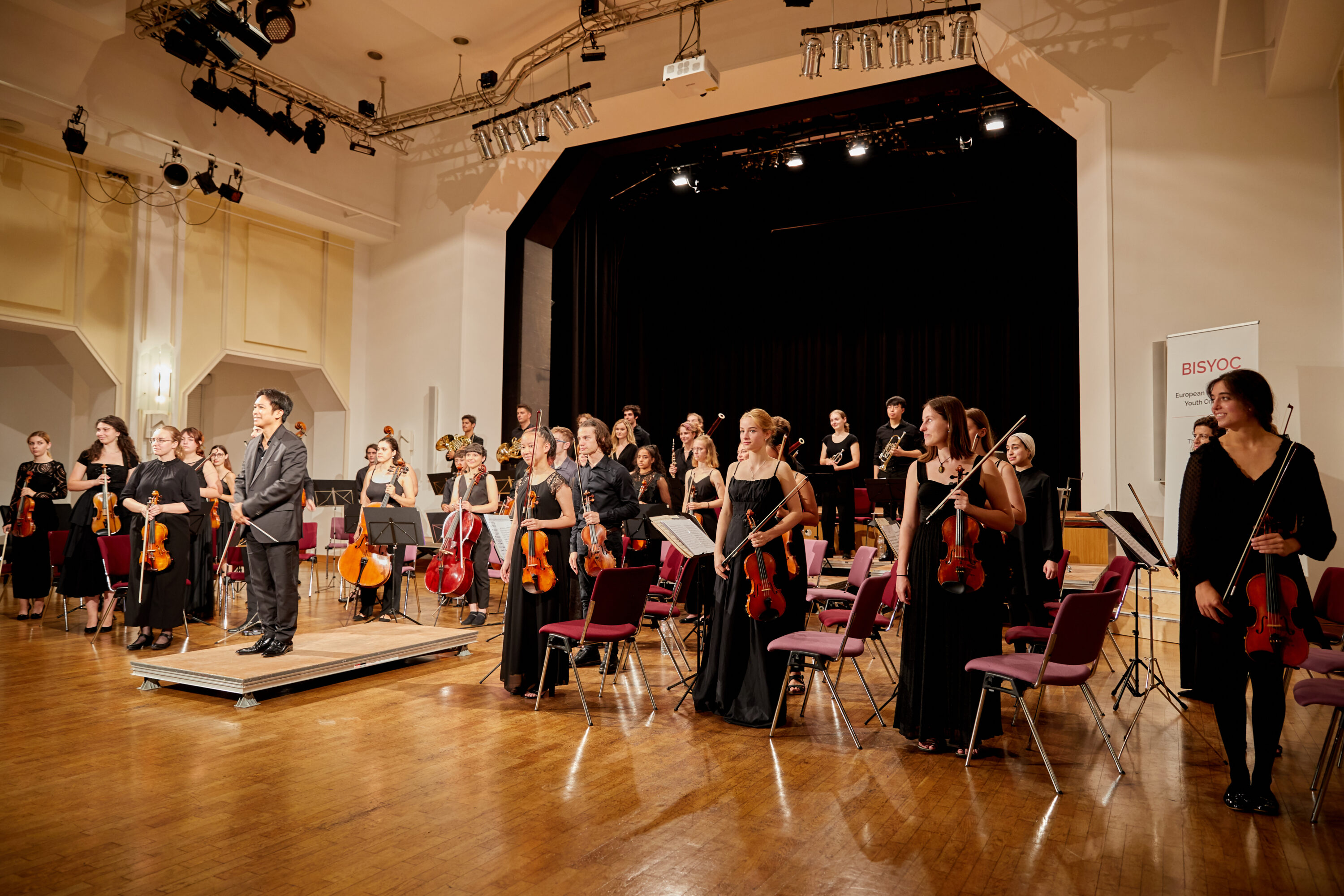 Musical program
BISYOC will be a medium-sized orchestra in 2024 with 50 to 60 players. The program is varied and exciting for all instruments:
Aaron Copland (1900-1980): Appalachian Spring
Antonin Dvorak (1841-1904): Symphony No. 9 "From the New World"
Lili Boulanger (1893-1918): D`un matin de printemps
Ruth Crawford Seeger (1901-1953): Rissolty Rossolity
We encourage you to apply if you play one of the following instruments:
Violin
Viola
Cello
Double bass
Flute / Piccolo
Oboe and/or English horn
Clarinet and/or Bass Clarinet
Bassoon and/or Contra Bassoon
Trumpet
French horn
Trombone
Tuba
Harp
Percussion (Timpani, Glockenspiel, Xylophon, Suspended Cymbals, Triangle, Claves, Woodblock, Bass Drum, Snare Drum, Tamburin/Tabor, Cymbals)
Piano / Celesta
In addition to the orchestral works, chamber music groups will be formed during the course. Participants are invited to come up with ideas for groups and every musical wish will be taken into consideration. All musical work will be guided and supported by our international team of musical tutors. Please note that we will not have a tutor for every instrument.
Cultural Program
During the course, you will participate in and be part of an extensive cultural program. This way, you will get to know the other participants and experience different cultures.
We will start the day with a common morning warm-up in the beautiful park around our accommodation. For the evenings we have planned various events for you, such as the very popular Eurovision Song Contest and a dance night. On other evenings, there will be cosy get-togethers.
Location
About our Location
Kapfenburg Castle ist beautifully located in the South of Germany between Stuttgart and Munich. Numerous rooms
of different sizes are available for our rehearsal stay with up to 174 square metres in the high castle. The concert hall
with 300 square metres offers enough space even for large orchestras, and the building wing also has two smaller rehearsal rooms. All rehearsal rooms are equipped with a piano. Chairs and music stands are also available in sufficient numbers.
Accommodation
Accommodation at Kapfenburg Castle is in stylishly furnished academy rooms with a view of Lauchheim or the castle courtyard. The rooms in the brewery and forestry building are equipped with shower, WC and hairdryer, the Trysolei has a bunk bathroom. The shared rooms are furnished with single beds and access to the free W-LAN.
The accommodation provides quiet private space as well as plenty of opportunities to get together. In addition to indoor and outdoor game rental, we have the option of ending the day in the recreation cellar or one of the lounges.
You will love it!
Travel to BISYOC
When thinking about the choice of transportation, we encourage participants to travel in an environmentally friendly way to BISYOC. We will offer Bus Pickups from a near train station (Aalen Main Station) and the next Airport, probably Munich or Stuttgart. We will send more specific information about travel options in the months leading up to the course!


There are several sites to check for the best connection for you:
By Bus
Traveling by bus might be cheaper than by train. Below you can find two popular bus travel sites.
Find cheap bus tickets across Europe: https://www.eurolines.de/en or https://global.flixbus.com/
By Bike
Some very adventurous participants travelled from Germany to Struga, Republic of North Macedonia by bike in 2019. If you want to make BISYOC an even bigger adventure, why not try travelling by bike?
By Car
We recommend carpooling as an more environmentally friendly and cheaper way to travel by car.
By Plane
The closest airport is TBA. From there you can travel to TBA by train (see above). Be alert that due to travel restriction in relation to COVID19, flights often get shifted or cancelled at the moment. We advise to try to look for another means of travel.
BISYOC and COVID19
COVID19 became part of our daily life. Since the situation is quite relaxed at the moment, we are very optimistic that it will be much more relaxing in the summer of 2024.
We will provide more info about COVID19 related requirements and hygiene concepts in the weeks before the course. Likely, you will have to show a proof of vaccination and you might need to get tested on site additionally (2G/2G+), but we cannot tell for sure now.
What we are sure about is that BISYOC 2024 will be memorable and full of pleasure!